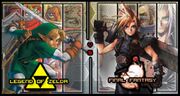 A GameFAQs contest is a site-wide popularity contest run to find what is users' favorite character, game, or series. Typically, Contests are run as the Poll of the Day during the season, so everyone has a chance to vote. Board 8 was created for discussion of these contests.
Before adding anything please see: Policy:GameFAQs contest.
List of Contests
Edit
In chronological order:
Complete Lists
Edit
All Contest Match Pages
Edit
Ad blocker interference detected!
Wikia is a free-to-use site that makes money from advertising. We have a modified experience for viewers using ad blockers

Wikia is not accessible if you've made further modifications. Remove the custom ad blocker rule(s) and the page will load as expected.