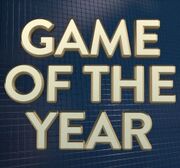 Are you looking for Zachnorn's B8 Contest that ran from 2007 to 2009? See Game of the Year (Zachnorn's contest). There's also TimJab's version from 2010: Game of the Year (TimJab's contest)
Game of the Year awards are handed out by a number of gaming publications and websites each January, and GameFAQs is no exception. There has been a user-voted GotY handed out each year since 2001 in a series of main page polls whose results can be seen below.
GameFAQs Game of the Year Winners
Edit
2012
Borderlands 2 22%
Mass Effect 3 17%
Xenoblade Chronicles 14%
Walking Dead/Assassin's Creed III/XCOM/Mario Bros. U/Persona 4 Arena/Sonic Racing Transformed
2011
The Elder Scrolls V: Skyrim 45%
The Legend of Zelda: Skyward Sword 23%
Batman: Arkham City 17%
Pokemon Black/LA Noire/Bastion/Infinity Blade II
2010
Mass Effect 2 45%
Super Mario Galaxy 2 33%
God of War III 23%
2009
Dragon Age: Origins 30%
2008
Fallout 3 30%
2007
Halo 3 20%
2006
Gears of War 21%
2005
Resident Evil 4 55%
Mario Kart DS 23%
God of War 22%
2004
Halo 2 26%
Metroid Prime 2: Echoes 22%
Half-Life 2 19%
2003
Final Fantasy X-2 31%
2002
Metroid Prime 35%
Kingdom Hearts 17%
2001
Final Fantasy X 30%
2000
No GotY polls were held, for some unknown reason
1999
FFVIII 38%
Soul Calibur 12%
WWF Wrestlemania 2000 10%
There was also a special GotY poll in 2010 for "Game of the Decade" featuring all of the winners from 2000 to 2009.
Game of the Decade (2000-2009)
Final Fantasy X 23%
Resident Evil 4 13%
Call of Duty: Modern Warfare 2 11%
Super Smash Bros. Brawl 10%
Grand Theft Auto: San Andreas 10%
The Legend of Zelda: Twilight Princess 9%
Chrono Cross 7%
Metroid Prime 6%
The Legend of Zelda: The Wind Waker 5%
Super Mario Galaxy 4%
(There was no poll held in 2000, so the win was awarded to Crono Cross. Probably a fair decision, as it dominated for most FAQ hits that year.)
Ad blocker interference detected!
Wikia is a free-to-use site that makes money from advertising. We have a modified experience for viewers using ad blockers

Wikia is not accessible if you've made further modifications. Remove the custom ad blocker rule(s) and the page will load as expected.