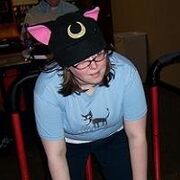 GamerPanda is a girl. On the internet. I know, crazy. Her fiancé is Applekidjosh.
On February 10, 2007 Josh proposed to her and she said yes.
Josh will sometimes (allegedly) use her account to do unscrupulous things, although no one has been able to prove it as of yet.
Active - 10
TheCutestPanda
Pandsience
Mia Fey
Maya Fey
Sosuke Sagara
Kurtz Weber
Apple Kid Panda
Go Planet
MakeYourPanda
GP Purified
Read-Only - 7
GamerPanda13
Taco Sauce
Catgirl Nap
Amanda Miller
Public Panda
Panda Public
Pandapple
Ad blocker interference detected!
Wikia is a free-to-use site that makes money from advertising. We have a modified experience for viewers using ad blockers

Wikia is not accessible if you've made further modifications. Remove the custom ad blocker rule(s) and the page will load as expected.