Ad blocker interference detected!
Wikia is a free-to-use site that makes money from advertising. We have a modified experience for viewers using ad blockers

Wikia is not accessible if you've made further modifications. Remove the custom ad blocker rule(s) and the page will load as expected.
gotspork: I want a page
gotspork: cause I'm an attention whore
gotspork is also a catgirl
Her catears and tail are blue
Her boyfriend created the CATS Army, board 8's first army.
Her fruit is happy. ^_^
I'm in a lot of categories that weren't made yet, so I tried to fix them (for example amazing and beautiful (and thanks by the way))
-Art by Wily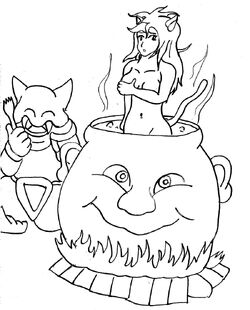 Sup gotspork?- Cyclo
She makes a good point. And the spork is a wonderful invention. - swirl
I'm here because I want to talk to girls and be popular! - Rikku
hay guys i'm editing a gurl - Alex Shelley
*pets sporky* - JonthePenguin
*also pets* - Omega333
LOOK OUT! A GIANT CAT IS MOUNTING YOU FROM BEHIND! - Rad Link 5 (yike!)
Hello, Gots Pork. - WVI
*pets* - Rad Link 5
I love pie - ZenOfThunder
Oh gotspork, where art thou? - th3l3fty
Woah, when did Spork become a chick? - ShadosNeko