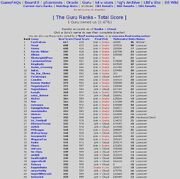 This article was the Article of the Week for the week of 5/14/06.
Guru Contests are bracket competitions held between the Contest experts (hence "Gurus") who reside in Board 8's Stats Topic. Ngamer and Ulti have run Guru competitions for every bracket since the '04 Game Contest.
The latest Guru scoreboard as well as final results from all past seasons can be found at thengamer.com/guru.
Past Guru Champions
Edit
Guru Nomination Choices
Edit
Starting with the 2006 BSE Contest, a stipulation was added to Guru signups saying that everyone who enters the competition is required to save one nominate for the next season's bracket, to be spent on an entrant of the Guru winner's choice. Here is a listing of what entrants were backed by the Gurus, and how they fared.
All-Time Guru Rankings
Edit
Though over 235 Gurus have competed over the years, only 9 True Gurus have been involved in every competition since Spring 2004. They have been bolded on this list. In order, the Top 25 on the All-Time Guru Rankings are...
UltimaterializerX - 822 points

King Morgoth - 820

Sir Chris - 790

FastFalcon - 787

ChichiriMuyo - 781

swirldude - 763

Haste2 - 761

charmander - 760

Ngamer - 751

Heroic Mario - 749

red sox - 736

Team Rocket Elite - 736

cyko - 703

Ringworm - 695

yoblazer - 684

Z1mZum - 676

Yesmar - 672

fett - 664

DomaDragoon - 651

MasterMage - 638

HaRRicH - 626

Aprosenf - 618

Mac Arrowny - 616

steve illumina - 614

Sephirot - 611
External Links
Edit