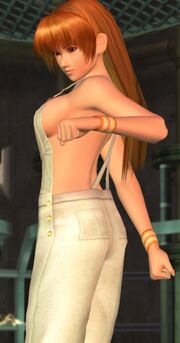 Kasumi is the most popular female fighter from the Dead or Alive series, and had a starring role in the 2006 DoA film. In 2005 she won a G4 contest where users voted to determine the sexiest heroine in gaming.
CJay was determined to load the original Character Battle bracket with semi to fully-obscure fighting characters, and it paid off for Kasumi, who surprisingly managed to hold Aeris to under 63%. After Aeris went on to allow only 56% to Snake, this left Kasumi looking great in the final x-stats, in 25th place. Despite that sort-of success, she didn't make it back into a Contest until the Female Bracket of 2006, where she was put in an unfortunate position and got fighter-girl SFFed into the ground by Chun Li. Kasumi finished with a much more expected 53rd ranking in the '06 stats.
Notable Matches
Edit
See Also
Edit
External Links
Edit
Ad blocker interference detected!
Wikia is a free-to-use site that makes money from advertising. We have a modified experience for viewers using ad blockers

Wikia is not accessible if you've made further modifications. Remove the custom ad blocker rule(s) and the page will load as expected.