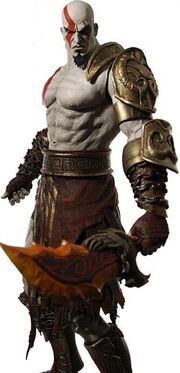 Kratos is the main hero of, you guessed it, God of War. He enjoys ripping off the heads of harpies and cliff diving.
Has had 2 contests, both with a 3 seed, losing to a unstable character (Alucard, 2005 and Ryu, 2006).
In the Summer 2007 Contest, Kratos finally made a lasting mark. He finished first place in his match against Donkey Kong, Marth , and the Prince of All Cosmos. In round 2, he took first place against L-Block, Kirby, and Donkey Kong. Kratos took third place in round 3 in a match that included Solid Snake, L-Block, and Riku, but he'd now be remembered for years to come.
In the Summer 2008 Contest, Kratos took first against Jill Valentine, Revolver Ocelot, and Heavy. In round two, Kratos took second place as he and Sephiroth defeated Tifa and Jill Valentine. Kratos bowed out in the third round, taking last against Sephiroth, Sonic, and Auron.
Hey, at least he's more unique than Kratos Aurion.
- Gamemazta

Notable Matches
Edit
See Also
Edit
External Links
Edit
Ad blocker interference detected!
Wikia is a free-to-use site that makes money from advertising. We have a modified experience for viewers using ad blockers

Wikia is not accessible if you've made further modifications. Remove the custom ad blocker rule(s) and the page will load as expected.