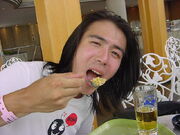 Kuge was the orginal creator of the Random User Elimination Challange and well as the board 8 user fights. Although he got tired of writing it because he decided to make it a 64 person contest instead of 32. He was banned in early October of 2005 (and he refused to tell why), but returned around a year later.
His alt is xXEgukXx and thanks to Soul, he got Kuge to have his own wiki page made.
He is a huge fan of poker, and has provided several accounts of his standing in various online tournaments. After the banning Kuge turned $2 into over $8000 by finishing 2nd in two huge tournaments on pokerstars. He plans on playing in a WSOP event in 2007 so keep an eye on him on ESPN. If you want to talk to Kuge, he will probably not answer your AIM messages, however he will love to talk to you on pokerstars and goes by the name Kuge
KUUUUUUUUUUUUUUUUUUUUUUUUUUUUUUUUUUUUUUUUUUUUUUUUUUUUUUUUUUUUUUUUUUUUUUUUUUUUUUUUUUUGE!
See, I don't completely suck at poker

Then a little later I got this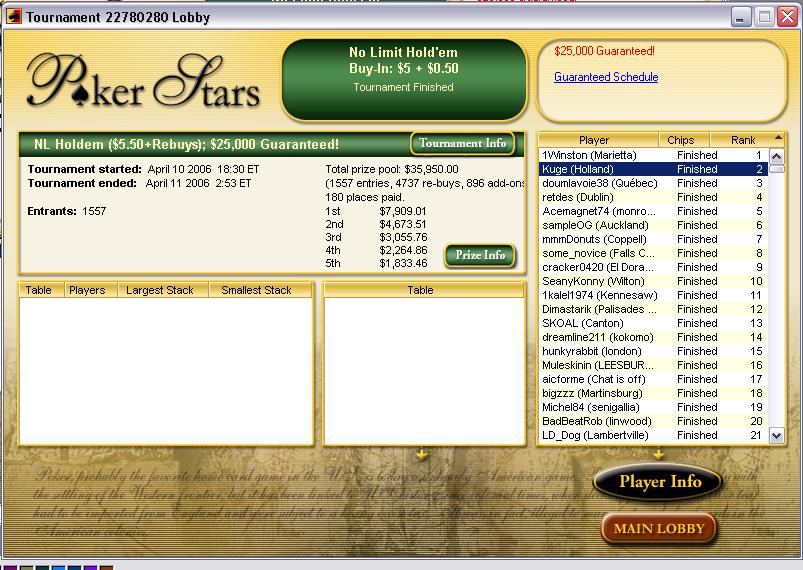 More to come!
External Links
Edit
Ad blocker interference detected!
Wikia is a free-to-use site that makes money from advertising. We have a modified experience for viewers using ad blockers

Wikia is not accessible if you've made further modifications. Remove the custom ad blocker rule(s) and the page will load as expected.