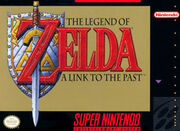 The Legend of Zelda: A Link to the Past is the third title in the highly-acclaimed Zelda series, released on the Super Nintendo in 1992. It's considered to be the best game in the Zelda series to some, and even the best game of all time to a few others.
LttP appeared in the Spring 2004 Contest, where it was victorious against Gunstar Heroes, Super Metroid, and Final Fantasy VI, before losing a closely contested match with Chrono Trigger.
Notable Matches
Edit
Ad blocker interference detected!
Wikia is a free-to-use site that makes money from advertising. We have a modified experience for viewers using ad blockers

Wikia is not accessible if you've made further modifications. Remove the custom ad blocker rule(s) and the page will load as expected.