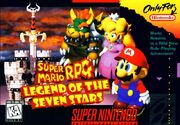 Super Mario RPG is a 1996 role playing video game developed by Square (now Square Enix) and published by Nintendo for the Super Famicom/Super Nintendo Entertainment System. It was the first role playing game in the Super Mario Bros. series. Known for its 3D rendered graphics at the time of its release and quirky humor, SMRPG is one of the most beloved SNES titles. The game marks Geno's debut and close to only appearance.
Super Mario RPG has been in a total of 3 Games contests thus far, the Spring 2004 Contest, the Spring 2009 Contest and the Fall 2015 Contest. It is most remembered for its performance in the 2015 contest, scoring a surprise victory over Metal Gear Solid 3 and becoming a beloved underdog on Board 8 until its defeat at the hands of The Legend of Zelda: Ocarina of Time in the semifinals.
Notable Matches
Edit
External Links
Edit
Ad blocker interference detected!
Wikia is a free-to-use site that makes money from advertising. We have a modified experience for viewers using ad blockers

Wikia is not accessible if you've made further modifications. Remove the custom ad blocker rule(s) and the page will load as expected.