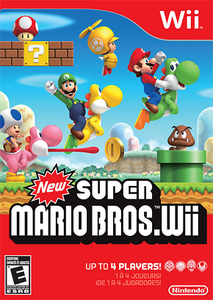 New Super Mario Bros. Wii is a 2-D platformer developed and released by Nintendo for the Wii in 2009. Much like other Mario games, NSMBWii is a simple quest to rescue Princess Peach from the clutches of Bowser; however, it's different from other Mario games in that it supports simultaneous multiplayer, and the difficulty is more akin to the older, more challenging Mario titles for the NES. It was a massive commercial success, and is one of the best-selling Mario games of all time - it proved to be somewhat polarizing among critics, however, though most generally enjoyed it.

NSMBWii participated in the Game of the Decade contest, where, in a result that surprised the board (and not too many others), it lost to Marvel vs. Capcom 2 in its only match.
Ad blocker interference detected!
Wikia is a free-to-use site that makes money from advertising. We have a modified experience for viewers using ad blockers

Wikia is not accessible if you've made further modifications. Remove the custom ad blocker rule(s) and the page will load as expected.