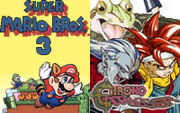 Friday, June 4th, 2004
Poll 1661
Round
Tournament Semi Final
Match #
61
Match Date
Friday, June 4th, 2004
Vote difference
3,881
Oracle
Expectations
Chrono Trigger - 50.90%
34 for - 18 against
GameFAQs
Prediction
Chrono Trigger - 24.63%
(10,084 brackets)
This was the one match that could have been billed as Mario vs Crono 3. The update topics were even labeled as Mario vs Crono instead of Mario 3 vs Chrono Trigger. But in the end, this was the most anticlimactic match of the entire contest. After the game went through their early scuffle, Chrono Trigger took the lead and never looked back. There was no magical comeback by Mario, no insane voodoo involving a Male or Female poll, and everyone that was hoping for massive drama to overtake this contest before Final Fantasy 7 took a gigantic crap on the rest of the bracket were severely let down. Mario 3 simply got beat; the best it managed after the first parts of the poll were mini-surges that were all countered before the end. Fitting that Chrono Trigger waited until its bout with Mario 3 to pull out its best showing. This was the one match in which Chrono Trigger's percentage gain remained constant throughout the day, with no massive loss in the afternoon vote.
It really sucks when the last three matches of the contest are so damned easy to analyze. Mario 3 lost, and the only explanation I can give is that Chrono Trigger, despite all of the struggles to get here, is simply more popular than Mario 3 on this site. No ifs, ands or buts.
Match Trends
Edit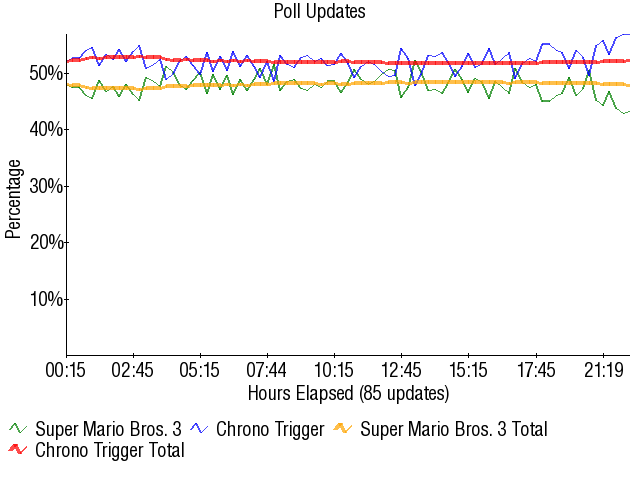 External Links
Edit
Ad blocker interference detected!
Wikia is a free-to-use site that makes money from advertising. We have a modified experience for viewers using ad blockers

Wikia is not accessible if you've made further modifications. Remove the custom ad blocker rule(s) and the page will load as expected.