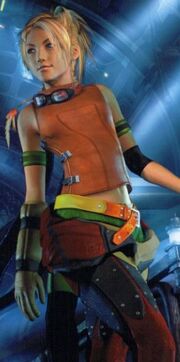 Rikku is Yuna's younger girlfriend from Final Fantasy X. Recently it has become all the rage for young Asian girls to cosplay as her- this is a very good thing.
Rikku began her Contest career with an impressive showing against Ryu in 2005, which she followed up by making a fairly decent run through the '06 Female Bracket, though she did end up being drummed out pretty hard by Samus. 2007 was a disappointing year for Rikku in that she was one of the biggest victims of LFF in the first round; if Vaan had leached away just a few thousand fewer votes from her, she could easily have upset Knuckles and advanced to the next round.
Notable Matches
Edit
See Also
Edit
External Links
Edit
Ad blocker interference detected!
Wikia is a free-to-use site that makes money from advertising. We have a modified experience for viewers using ad blockers

Wikia is not accessible if you've made further modifications. Remove the custom ad blocker rule(s) and the page will load as expected.