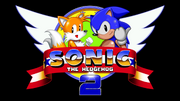 Sonic the Hedgehog 2 is a platform video game developed by Sonic Team and published by SEGA. It was released in Japan on November 21st 1992 and in the United States three days later. Sonic 2 improved on it's predecessor and introduced Miles "Tails" Prower, Sonic's fox buddy. Sonic 2 sold over 6 million copies and received several re-releases for a myriad of consoles.
Sonic 2 is hailed as one of the best, if not the best Sonic game of all time.
Its contest history is fairly unimpressive however, losing early on in the Spring 2004 Contest and the Spring 2009 Contest. Its most impressive showing to date has been the Fall 2015 Contest, beating Portal 2 and Uncharted 2. Its reward for getting to Round 3 was its complete destruction by Pokémon Red/Blue/Yellow.
Notable Matches
Edit
Ad blocker interference detected!
Wikia is a free-to-use site that makes money from advertising. We have a modified experience for viewers using ad blockers

Wikia is not accessible if you've made further modifications. Remove the custom ad blocker rule(s) and the page will load as expected.