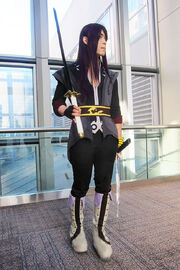 SuperNiceDog
 is a user from San Francisco who been following the
GameFAQs Contests
since 2003, but didn't come to the attention of Board 8 until 2011 when he took 2nd place in the
Rivalry Rumble
Contest. SND's bracket was 1 point away from perfection (he took
Ramza
>
Nightmare
in R1), which was good enough to win the
Guru Contest
.
He made an appearance on Season 3, episode 8 of The Show, where he discussed a potential character nomination pic of Lugia and a potential games contest pic of League of Legends. In some ways he was prophetic in discussing the possible power that such a game could have on the contests.
His favorite games at the moment are League of Legends, Tales of Vesperia, and GTA 5.
Guru Nomination Announcement
Edit
Hi guys this is SuperNiceDog. I won the Rivalry Rumble Guru Contest in 2011.
My nomination choice for the 2013 contest is Yuri Lowell from Tales of Vesperia. He's my favorite character from my favorite series. I think he can win a match if he gets like a 6 seed or so, and doesn't have to face a bad opponent like Tifa in 2010. He's a great character, and despite his girly looks, he's pretty badass. So nominate him. Thanks!
My second choice would be a probe from Starcraft/Starcraft II. I think this is a character that could be super strong like L-block, universally known by Gamefaqs voters. As of right now, Yuri is my nomination choice though.
External Links
Edit
Ad blocker interference detected!
Wikia is a free-to-use site that makes money from advertising. We have a modified experience for viewers using ad blockers

Wikia is not accessible if you've made further modifications. Remove the custom ad blocker rule(s) and the page will load as expected.