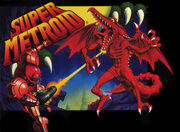 "best game ever" - transience
Super Metroid is a 1994 action-adventure game published by Nintendo, developed by its first Research and Development division and programmed by Intelligent Systems for the Super Famicom/Super Nintendo Entertainment System. It is the third game in the Metroid series, after the NES original and Return of Samus on the Game Boy. It is regarded as one of the best SNES titles and one of the greatest games of all time.
Super Metroid has steadily grown a bit in power over the years. It's not a top-tier finalist but it has performed solidly enough and isn't exactly a pushover. Check out its notable matches for its performances; it speaks for itself.
Notable Matches
Edit
External Links
Edit
Ad blocker interference detected!
Wikia is a free-to-use site that makes money from advertising. We have a modified experience for viewers using ad blockers

Wikia is not accessible if you've made further modifications. Remove the custom ad blocker rule(s) and the page will load as expected.