The Legend of Zelda
Talk

0
4,099pages on
this wiki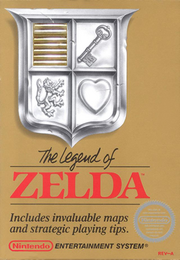 This article is about the original Zelda game and the series that followed.
For Princess Zelda the character, see Zelda.
For the Zelda Timeline, see The FINAL Zelda Timeline.
Zelda the Game
Edit
The Legend of Zelda was one of the most popular games in the history of the NES, so no one was surprised when it earned a 2 seed in the Game Contest of 2004. LoZ posted a number of dominating wins on its side of the division, including a very impressive drubbing of Tetris, but came up a little short in the division finals against an even bigger 8-bit icon, Super Mario Bros. 3. Some contend that Zelda 1's final ranking in the X-Stats being so "meh" is only because it was icon-SFFed by Mario 3, and that against nearly any other opponent the game would rank right up there with A Link to the Past. We'll find out in the next Game Contest.
Notable Matches
Edit
Zelda the Series
Edit
After two straight years of Link finishing a convincing first place in the Summer Contests, no one (again) was surprised when Zelda earned the overall #1 in the 2006 Series Contest. Even though Zelda looked like the most dominating force we'd ever seen in a Contest setting throughout the entire tournament, including making even a formidable foe like Metal Gear look ridiculous, Board 8 refused to give up their pre-Contest mindset that Final Fantasy was going to be untouchable. That changed when Zelda defeated FF in a hard-fought battle for the Series Championship, in a matchup that smashed all previous records in becoming the popular poll in the site's history.
Notable Matches
Edit
Character Battle Representation
Edit
The Legend of Zelda series has launched the most successful career in Contest history, and a couple others that have been pretty interesting. The following LoZ characters (listed roughly in order of perceived strength) have been made it into GameFAQs Character Battles:
See also
Edit